Carburetors For Industrial And Farm


For information and a quote, please e-mail us to mail@carbsonly.consee link at left. Or phone during business hours. Or email or fax. Tell us clearly what you need. All inquiries receive personal attention by our experts, and we always respond, by phone or email, as fast as we can.
Zenith

New Carburetors


At BFIC we can supply all of the currently available new Zenith carburetors that are widely used on gasoline-powered industrial and construction equipment, and on farm implements. The Zenith line also includes all of their Marvel-Schebler

replacements. Gallery of industrail carburetors and carburetor kits

Zenith carburetor electric choke
ZENITH MODEL 33
HAND CHOKE

ZENITH MODEL 33 LPG

ZENITH MODEL 33
ELECTRIC CHOKE

ZENITH MODEL 33
ELECTRIC THROTTLE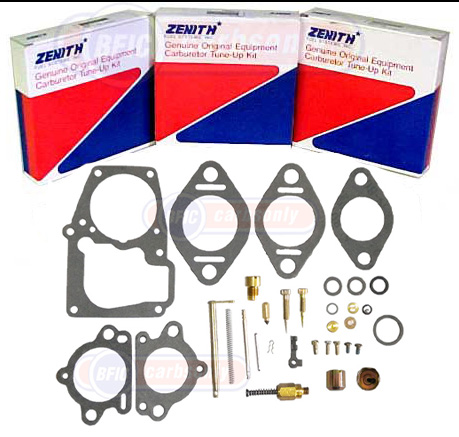 Look to us for the rebuild kits and repair parts for Zeniths and Marvels, as well as the Carters, Nikki and Holley's that came stock on various equipment. Our coverage in rebuild kits goes back to the early 1930's. Please give us the original carburetor number, since it is difficult to identify rebuild kits for many industrial and farm applications.

Carburetor Rebuilding at BFIC
| | | |
| --- | --- | --- |
| | We rebuild carburetors at our own well-equipped facility, in Burbank, CA. Our entire rebuild process is geared to quality performance and customer satisfaction. To have us do a rebuild, contact us first, then send us the carburetor, or bring it by in person. We'll provide a free evaluation -- inspections and opinions are no charge. Turnaround time is usually three to five days during the week, but it longer if rare parts are needed. Our rebuilds are guaranteed 90 days . See "FAQ's" for details. | |
Let us hear from you. We're pleased to help wherever we can. All major credit cards accepted. We ship worldwide. Thousands of satisfied customers in the U.S. and throughout the world.
Our business is built on a foundation of quality, service and integrity.

Copyright © 1996 - 2023. BFIC Fuel Systems. All rights reserved. www.carbsonly.com
820 Thompson Ave Unit # 4 Glendale CA 91201 Ph. 818-845-9000 818-845-1593 fax 818-433-4819